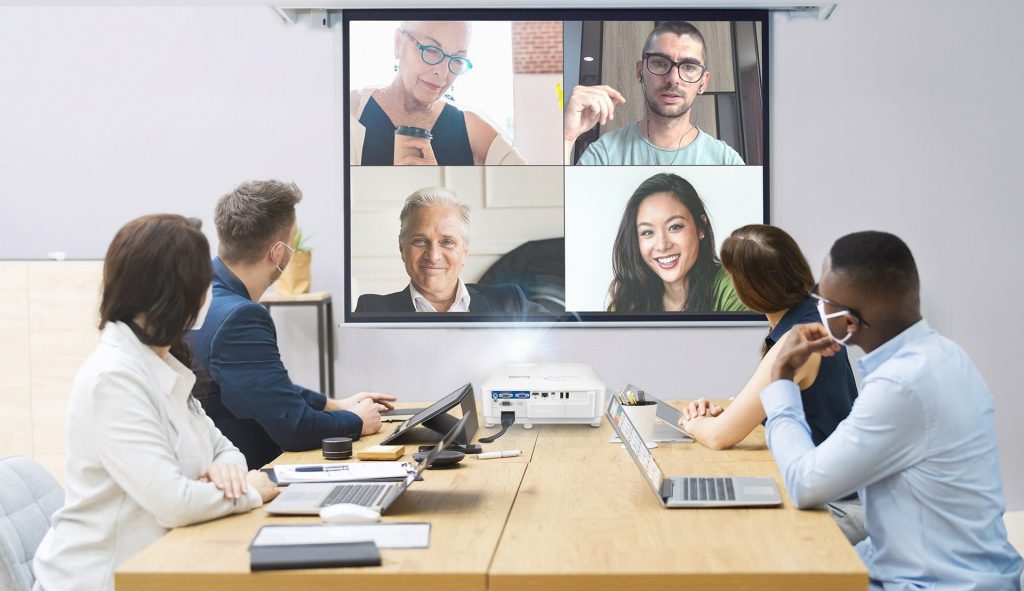 Welcome to Hoopoe Infoedge Pvt Ltd's Video Conferencing Solutions page. In today's fast-paced business environment, effective communication is essential. Our video conferencing solutions are designed to connect you with your team, clients, and partners effortlessly, no matter where they are located. Explore how our cutting-edge solutions can transform your business communications:
1. High-Quality Video Conferencing:
Experience crystal-clear video and audio quality during your virtual meetings.
Our solutions support HD video and noise-canceling audio for an immersive conferencing experience.
2. Seamless Collaboration:
Collaborate in real-time with features like screen sharing, file sharing, and interactive whiteboards.
Foster teamwork and productivity, whether your team is in the office or working remotely.
3. Scalability:
Our video conferencing solutions can scale with your business needs. Whether you have a small team or a large enterprise, we have the right solution for you.
4. Security and Privacy:
Protect your sensitive discussions with advanced security features, including encryption and user authentication.
Ensure your confidential information remains private during video conferences.
5. Integration:
Seamlessly integrate our video conferencing solutions with your existing collaboration tools and platforms.
Enhance efficiency and streamline your workflow with easy-to-use integrations.
6. Support and Training:
Our dedicated support team is available to assist you with setup, troubleshooting, and ongoing maintenance.
We offer training sessions to ensure your team can make the most of our video conferencing solutions.
7. Compatibility:
Our solutions are compatible with various devices and operating systems, ensuring flexibility and accessibility.
8. Custom Solutions:
Tailor-made video conferencing solutions to meet your unique business requirements.
We can customize features and functionalities to align with your specific needs.
Smart Boards for Schools
Elevate the educational experience with Smart Boards – interactive, touch-sensitive whiteboards designed to revolutionize the way students learn and teachers instruct. Smart Boards bring lessons to life by enabling educators to create dynamic, interactive presentations, making learning engaging and immersive. These intuitive devices allow teachers to write, draw, and interact with digital content while providing a collaborative platform for students to participate actively. With Smart Boards, educational institutions can foster interactive learning environments, encouraging student engagement and knowledge retention. Transform your classrooms into hubs of innovation and interactivity with Smart Boards for Schools, available at Hoopoe Infoedge Pvt Ltd.

Empower your school or university with efficient and reliable video conferencing solutions and Smart Boards from Hoopoe Infoedge Pvt Ltd. Enhance remote learning, collaboration, and interactive teaching.
Empower your organization with efficient and reliable video conferencing solutions from Hoopoe Infoedge Pvt Ltd. Stay connected, enhance collaboration, and bridge geographical gaps with ease.
Contact us today to discuss your video conferencing needs and discover how our solutions can improve your business communication.
Experience the future of communication with Hoopoe Infoedge Pvt Ltd's Video Conferencing Solutions.